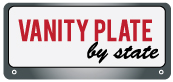 Why Did We Create Vanity Plate by State?
VanityPlateByState.com is the leading directory on the web for state by state instructions on where to obtain a custom vanity license plate for your car, truck or motorcycle. Whether you are a teenager looking to "pimp" your ride or an adult looking for that unique touch to make your car your own, we are the ultimate resource for finding where to go to get your personalized plate for your vehicle.
Have you ever been driving down the road and noticed a car with a crazy cool vanity plate and thought to yourself "I would love to have one of those, but I don't know how to get one"?  Well, look no further.  We have all of the steps, links and guidelines to get you that custom license plate that you thought of.

These features include:

Who handles issuing custom license plates in my state?
What specifically do I have to do to get a custom license plate?
How much does it cost?
How long do I have to wait to get my custom license plate?
What can I put on the license plate (for example, how many letters or numbers can I put)?
Is my vanity license plate already taken?
And much, much more.

Why Is this Site So Special?

No other resource on the web combines all of the state by state guidelines to obtain a vanity license plate for your vehicle.  We have found that simply going to your state's department of motor vehicle's website can be confusing and sometimes disorienting.  That is why we created the VanityPlateByState.com website.  Our main purpose is to provide a fun, easy and streamlined experience to get you that custom plate you deserve.